LIFE AT METRIC
Working with METRIC family means choosing a journey of sustainable growth.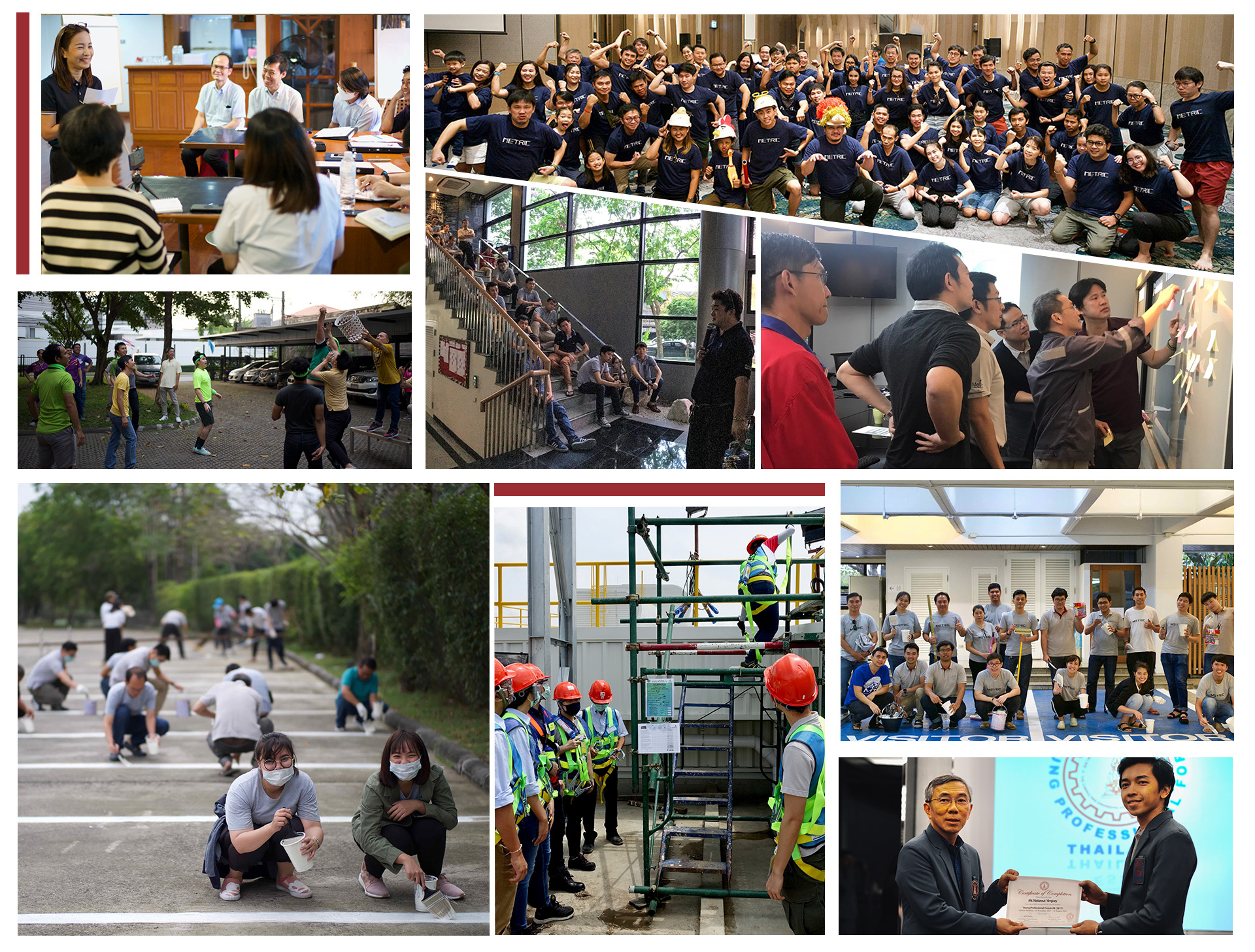 Learning Together as a Team
METRIC trusts in knowledge sharing. In order for every team member – new or old – to be capable of providing the most thorough engineering consulting solutions to our partners, each must understand how all functions of METRIC work independently and collectively. METRIC way of work is simple. Regardless of different fields of expertise and organizational superiority, we get together to discuss ideas, analyze challenges, explore alternatives, and define solutions. We also have cross-functional trainings to help each member understand and support one another better. At METRIC, everyone learns from everyone and is key to the close-knit team that thrives passionately as one.
Sense of Family
METRIC is more than a company. We are family bonded over the shared value we hold dear to our hearts. Our brothers and sisters regularly get together over a session called 'Talk the METRIC way' in which stories behind METRIC projects are shared, questions are raised and feelings are openly discussed. In raising and expanding the family of METRIC, it is important we stay close, connected and collaborative.
Opportunity for Learning and Growth
METRIC uses Career Aspiration Talk (CAT) to empower every collaborative relationship between a team lead and each member. By keeping an effective pulse check of all team players, CAT strengthens METRIC as a whole with the synergy between the company's and employees' directions for growth. To make sure every team member is walking the most preferred career path, METRIC also creates a personalized individual development plan (IDP) to curate the right development program which effectively helps him or her grow.
Work Life Balance
Beyond professional growth, it is a life well-lived we want for every member of our team. As a result, a number of employee-centric programs has been initiated including company clubs namely badminton, running and yoga, CSR activities and annual programs for work-life balance of every METRIC employee.
Counting on Ideas
METRIC listens carefully to every voice in our team. Every year we survey for every employee's feedback in order to create the most effective organizational development plan. We also run a program called "1 Person 1 Idea" which welcomes suggestions and opinions from our employees. We take it very seriously going through all submitted ideas namely expense control, how to increase operational effectiveness, and new business opportunities. METRIC milestones we are proud of have been made possible because of these invaluable voices within.
Compensation and Welfare
Committed to equality at workplace, METRIC operates with market-leading-standard compensation system which we always keep in check throughout different situations. Among the key employee welfare is the annual medical allowance for each members of the employee, which can be shared to his/her family members upon his/her wish. METRIC team member also earn what we call 'Happy Hours', the monthly-granted free hours which can be spent in any way and at any time upon their personal judgements. From an extra-long lunch get-together with friends to an emergency plumbing situation at home, the employees have all the right to spend these hours without giving the reason why.